Booklets are a versatile format that can be used to meet a multitude of needs. They can be newsletters, magazines or programmes. Booklets are stapled and are self cover – the paper is the same all the way throughout. When the need to convey information of a sizable amount or in greater detail the booklet printing format can meet every need, unlike brochures. Product exposure can be dramatically increased with a catalogue booklet featuring your entire inventory.
Your clients can put their story together with a beautifully designed booklet. A4 booklets are bigger guides and are ideal for information-packed presentations and workshops, or even for the coffee table in reception.
They are also perfect for prospectuses, newsletters and corporate brochures, price lists, questionnaires, direct mailers, instruction manuals and event/theatre programmes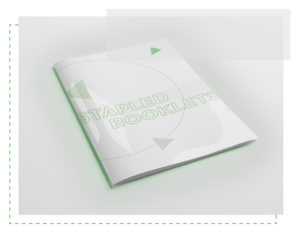 PAPER OPTIONS
130gsm gloss paper
---
170gsm gloss paper
---
300gsm gloss paper
TURNAROUND TIME
The turnaround time for this item is 3-5 days.
CUSTOM ESTIMATES
Note: Turnaround time begins from the time of proof approval and are Business working days. For custom orders or quantities over 1,000, please Click here for custom estimates.